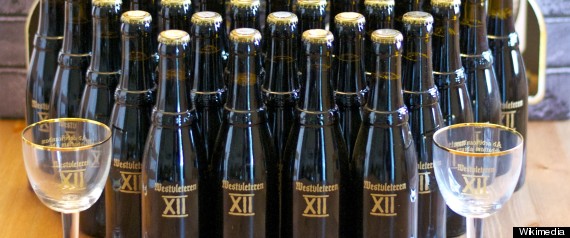 The world of craft beer has been set afire.
The
Brouwerij
Westvleteren
(Westvleteren Brewery), makers of "one of best beers in the world", announced that it would be selling its beer, for the first and only time, outside of the monastery's walls. The monastery's one-time effort is designed to raise funds to fix up their roof. But for beer
connoisseurs, it's an opportunity of a lifetime. And after NPR aired a segmented yesterday extolling the virtues of God's nectar (A Sign From Above? Needing New Roof, Monks Sell Rare Beer in U.S.),
and the
Huffington Post
ran a piece in today's food section (W
estvleteren XII, 'World's Best Beer," Makes One-Time U.S. Appearance
), people have been scrambling to find and try it - me included.
In an effort to procure some the divine nectar, I phoned my friend and local homebrew shop owner, the Old Lickspigot himself - Joel Rea of
Corvallis Brewing Supply
- realizing the shop was not yet open but hoping to leave a message. Much to my surprise and based on the overwhelming number of calls he'd received from people requesting this beer, the owner had changed his message to indicate that he did indeed have a case but that he'd be holding a raffle for the bottles and people needed to send him an email expressing their interest in participating in the raffle. So I obliged, in as eloquent a fashion as I could muster in 30 minutes of morning procrastination.
Now, without further ado, I give you my email - in its entirety - to the local homebrew shop to get in on some of the world's least available beer!
STOP! I KNOW YOU'RE BUSY, JOEL, BUT YOU MUST - ABSOLUTELY MUST - READ THIS ENTIRE EMAIL!

(or not, but I think you'll get a kick out of it)
Good gravy! Sounds like you've been inundated with calls about procuring some of this beer! That's awesome (or not, depending on your perspective). I guess the inundation is to be expected when a national radio program extols the virtues of this limited quantity nectar of the one true God!
But to the point of this email: I am interested in procuring one of these Westvleteren bottles.
And I'm interested for two reasons, the first of which is Divine in nature (helping the monks of Saint Xystus/Sixtus replace their roof), the second of which is purely to serve the interests and taste buds of others (yes, I'm that much of a giver).

And by others, I really mean me...and a few others that will get to quaff the sweet nectar of this bottle one evening next week whilst tying flies at my home. Flies that will hopefully land the One, True, Might and Strong winter steelhead in the coming days before Christmas (the equivalent of the golden egg-laying goose for our avian, folklore-loving friends). It is my firm belief that in savoring this drink direct from the hand of God (through his holy monks), the flies we tie up next week will have supernatural, spiritual powers bestowed upon them, thereby compelling the wary and willy winter steelhead to feel spiritually compelled to deliver themselves unto us fly-tying

brethren.

And they will feel compelled to deliver themselves unto us because we will have sufficiently demonstrated - via our consumption and appreciation of this Holy nectar - our direct link to God, indeed to the Divine Kingdom. And in so demonstrating, these most magnificent of winter

wilderness, waterworld wayfarers will attain true enlightenment and access to Heaven through our (including your) consumption of them (after they leave the smoker, of course!).
So please do let me know if/how I can get my hands on one of these bottles! In doing so, you will be playing an incalculable role as divine facilitator and savior of the pisces. And you'll strengthen your case for sainthood so that one day your name may be talked about in concert with that of Saint Francis of Assisi.
Many thanks, Joel!
Prost!

Jeremiah (Sixtus III?)